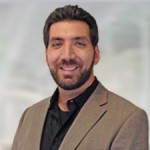 10 Questions & Answers by Maurizio Calconi, Toronto Consumer Goods & Retail Recruiter
IQ PARTNERS would like you to get to know some of our Toronto and Montreal based recruiters, so each month we profile one of them with 10 questions about their lives, the headhunting business, and what you should know as a client or candidate.  This month, meet Toronto-based Consumer Goods & Retail recruiter, Maurizio Calconi.
1. What's the first job you ever had?
I worked at an auto shop as the guy who cleaned up in the garage. I was 13 years old, it was 3 days a week, twice after school and once on Saturdays, and I had a push broom and did nothing but clean.  I can't say I enjoyed it, but I always got a pat on the back at the end of the day.
2. Who are your heroes in business?
Ted Powell, my mentor and the first guy who gave me a real, serious job.  He owned a chain of funeral businesses in Hamilton and helped me pay my way through school.  He gave me a chance when I was a struggling student and paid me a fair wage, believed in me, and gave me every opportunity.
3. How do you think the recruiting business could be improved?
More transparency all around; between candidate and recruiter, client and candidate, and client and recruiter.  If it's not a fit, rather than trying to pretend we can fit a square peg in a round hole, let's just move on.
4. What's your secret in connecting smart people and great companies?
I don't think there is a secret, I think the truth is that it's hard work.  I think one of the elements I really do believe in, and one of the things I like about IQ PARTNERS, is we have to meet 1000 people a year.  This is no different than anything else; if you put the hours in and meet a lot of people, you're able to start to distinguish who is really good and identify the tier 1, top 10% of the marketplace candidates.  There is no short cut; you won't know until you meet a lot of people.
5. If you could only ask clients one question when getting a recruiting brief, what would it be?
"Why you? Why should someone come work for you?" As your ambassador in the marketplace, I need to have that answer, first and foremost.
6. What question should every candidate ask when a headhunter calls?
"Are you exclusive on this search?", because if you're not exclusive and there are multiple firms chasing it down, do I have an honest shot at this opportunity or am I just one of many?
7. What trait do you most like to see in a job-seeker?
Engagement.  They want it.  They're happy to be here.
8. What's the funniest thing you've ever seen in an interview or on a resume (no names please)?
A guy showed up for an interview with Bell Media dressed as the Bell mascot.  He rented the beaver outfit and conducted the entire interview in character as the beaver.  I've never heard people laughing so hard.  If he had just had two to three more years of experience they would have hired him.  I have to hand it to the guy, he wanted it.
9. What's the one quality companies should look for when hiring a headhunter?
What does this individual bring to the table? Do they understand your role? Also duration in the industry; there are a lot of recruiters who have been doing it for a year and claim "expertise".
10. What is your idea of perfect happiness?
I don't think there is such thing as perfect happiness, I think it's a matter of finding good balance in life and being content with your current situation.  From a personal standpoint, you can go home and have a dog smiling at you and a kid running to greet you, and that's happiness right there.  Instead of trying to achieve better, be grateful for what's in front of you every day of the week.
From a professional standpoint if you look at what you're doing every day as a job, it's a job.  If you try to put some adventure into it, ask your boss for more projects, you'd be surprised how putting a little bit of spin on your day and doing something different can change your outlook on your career.
Interested in learning about the way headhunters think? Visit the Meet the Headhunter blog category for all of our Toronto & Montreal headhunter interviews.
IQ PARTNERS is a Recruitment Agency with offices in Toronto, Montreal & Vancouver, We help companies hire better, hire less & retain more. Our recruiters specialize in Marketing, Communications, Consumer Goods & Services, Retail, Sales, Technology, Finance & Accounting, Financial Services, Life Sciences, HR & Operations, and Construction, Property & Real Estate. IQ PARTNERS has its head office in Toronto and operates internationally via Aravati Global Search Network. Click here to view current job openings and to register with us.