In the past, many parents had to make a decision between choosing to have a family and letting their career take a back seat, or moving forward with their career aspirations. As remote and work-from-home opportunities become more common, there is less of a need to make a choice. You can do both. COVID-19 has only created more work-from-home opportunities for parents and caregivers.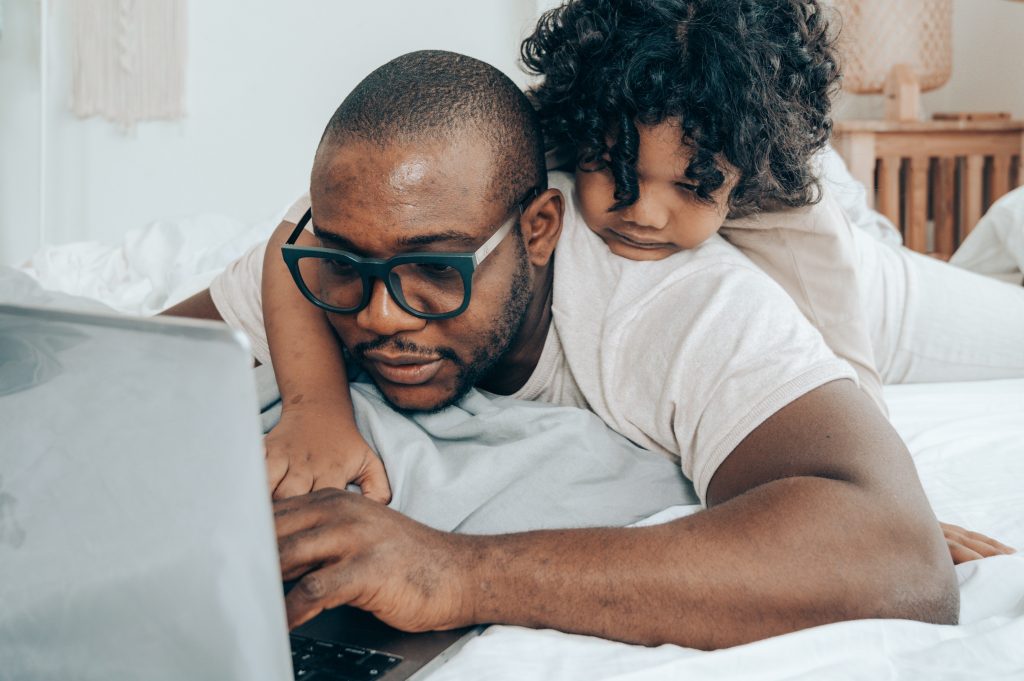 When seeking out work from home roles, it's important to weed through opportunities that are too good to be true and identify the legitimate work from home roles.
List of Legit Work From Home Jobs
Looking to get back into the workforce? Would a work-from-home job make more sense for your lifestyle? Check out this list of legit work from home jobs for moms and dads:
1. Marketing associate: The majority of marketing jobs can be done from home. There is an increasing number of remote opportunities in this field. Check out these blogs for more remote marketing job opportunities. 6 Best Work From Home Marketing Jobs to Consider.
2. Virtual assistant: This is basically an office job where you don't go into the office. You provide administrative support to a company such as scheduling, email management, reception, and other tasks. There are some bogus roles out there, so carefully review the company and job requirements before applying.
3. Copywriter: A good copywriter is always in demand. Many companies are seeking part-time, full-time, freelance, or contract copywriters to help them create compelling copy for their blog, company website, and marketing materials. Other related roles are proofreaders and editors.
4. Graphic designers: Similar to copywriters, there are flexible options for graphic designers. You can work remotely and collaborate via video chat to work through design projects.
5. Human resources: Companies are increasingly outsourcing the human resource function of their business to HR consultants and other small HR firms. You can find opportunities to complete projects, working on a contract or full-time basis.
6. IT support: The importance of strong IT infrastructure and support is only increasing. Companies are no longer relying on in-house IT teams. Many now employ remote technicians to provide support to their employees and customers online via chat or over the phone.
7. Bookkeeper: Accounting and bookkeeping roles are increasingly offered as remote positions. You can use online accounting tools to manage this function for a company from the comfort of your own home.
8. Customer service representative: With so many companies shifting business to e-commerce, there is an increasing need to provide remote customer service. It can be inbound or outbound, order fulfillment, and even technical support.
9. Social media consultant: Social media is an inherently online function. All you need is access to social media accounts and management tools, and you can create messages, engage users, and promote your company's brand online.
10. Corporate trainer/educator: Rather than have someone travel from office to office, many organizations are now having corporate trainers work remotely to offer onboarding, coaching, and training seminars.
Read More About Work From Home Opportunities on Our Recruiting Blog
6 Best Work From Home Marketing Jobs to Consider
Working From Home With Kids? 7 Small Tweaks to Make Sure It Doesn't Impact Your Work Performance
Struggling to Stay Productive? 5 Effective Tips for Working From Home During COVID-19
IQ PARTNERS is an Executive Search & Recruitment firm supporting clients across the country. We help companies hire better, hire less & retain more. We have specialist teams of recruiters in Executive Search / Board & C-Suite, Technology, Media, Digital & Marketing, Accounting & Finance, Financial Services & Insurance, Cannabis, Startup, Data Science, Consumer, eCommerce & Retail, Operations & HR, Manufacturing, Supply Chain & Engineering, Legal & Professional Services, Pharmaceutical & Life Sciences, Non-Profit & Sustainability, and Sales. Click here to view current job openings and to register with us.