We had trouble articulating the secret sauce that sets us apart from other recruitment firms, so we asked some of our IQ PARTNERS recruiters why they choose to work here… and got 36 unique answers. Here they are, in no particular order:
1. We are business consultants and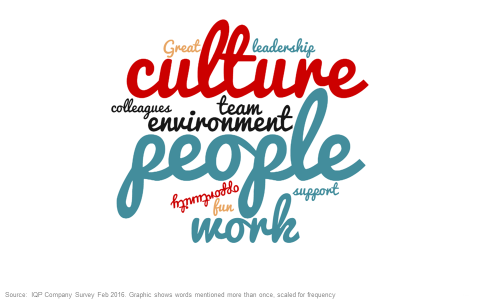 problem solvers. We get to learn the intricacies of our clients' businesses and partner with them to solve the issues.
2. We're nice. Our clients talk more about who we are and how we treat people than anything else.
3. IQP is "our" company. From recruitment consultant to partnership level, we are all invested in our collective success.
4. We hire smart people and get out of their way. We believe in the freedom to be true to who you are and "get stuff done" your own way.
5. We like to put the fun in fundraising (see what we did there?) with our Social Responsibility committee, IQP Gives Back.
6. We treat people like adults. There is no micromanaging, lunch break timing, or tie policing here.
7. Our clients range from small start-ups to large multinational corporations (which keeps life interesting), and they love us.
8. Every employee has weekly one-on-one meetings with their team leader to get and give feedback.
9. We do the right thing, even if it costs us.
10. We have some of the best company parties (really).
11. We have a serious passion for people – meeting them, connecting them, and helping them succeed!
12. We're small enough to provide very personal service yet large enough to have tremendous experience to draw from. A large boutique firm!
13. We have awesome social events like Thirsty Thursdays, poker & trivia nights, and Blue Jays games.
14. Our sales bell is a squeaking penguin.
15. We believe in continuous improvement, and we are the only recruitment firm to offer training towards a CRS (Certified Recruitment Specialist) designation.
16. We get to work with smart, driven people.
17. We know first days can be awkward… so we have an extensive onboarding process and buddy system to help new employees hit the ground running.
18. Our entire company meets daily at 11:51 for a 9 minute "Huddle".
19. We believe we are better together. We don't believe in culture-killers like candidate ownership.
20. We believe that good people know good people, so we pay our employees for successful referrals.
21. We really like each other.
22. We founded IQ PARTNERS on the belief that this business can be done better, smarter, and with greater professionalism.
23. Our career advancement opportunities are clearly defined, and we love to see employees succeed.
24. One of our 8 core values is "Have Fun!"
25. Our commission structure is best in class and clear from the beginning.
26. We communicate transparently. You'll always know how you're doing and how we're doing as a company.
27. We believe smart people make great companies.
28. Our leadership team has an open door and open mind policy.
29. We have a common sense, transparent approach to business.
30. Our Toronto office is conveniently located across from Union Station (and above a Jack Astor's & Loose Moose).
31. We have the freedom to manage our business on a schedule and structure that best fits our personal work styles.
32. We protect our culture and reputation by setting our hiring bar really really high.
33. We work hard and play hard.
34. Our meeting rooms are named after headhunting tribes from Papua New Guinea & Southeast Asia.
35. We're always growing and evolving. We've been named four times as one of Canada's fastest-growing companies.
36. Our Senior Partner, Randy Quarin, takes a 15 minute 'siesta' at 2:00 every. single. day.
Interested in working with us? Get in touch at careers@iqpartners.com. 
………………………………….
IQ PARTNERS is an Executive Search & Recruitment firm with offices in Toronto and Vancouver. We help companies hire better, hire less & retain more. We have specialist teams of recruiters in Financial Services & Insurance, Marketing Communications & Media, Emerging Tech & Telecom, Consumer Goods & Retail, B2B & Industrial, Technology, Accounting & Finance, HR & Operations and Mining & Engineering. IQ PARTNERS has its head office in Toronto and operates internationally via Aravati Global Search Network. Click here to view current job openings and to register with us.