By Catherine Lund, Toronto Marketing Recruiter
Daily huddles are a power tool that can greatly improve your team's communication, level of engagement and comradery. All it takes is a few minutes at the beginning of each day. In fact, it is so effective that we use daily huddles here at IQ PARTNERS with our recruiters and staff to get our day off to the right start.
Marketing teams are also adopting them. With so many people and moving parts involved with a marketing campaign, it's essential that your marketing team stay on the same page and stay up to date about how things are progressing.
The Benefits of Holding Daily Huddles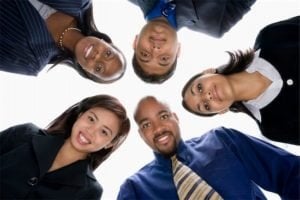 Improved communication: Communication is one of the biggest issues with most companies, especially from the top down. Huddles are a quick and easy way to improve internal communications. Communicating via email, text, and social media can cause confusion, and sometimes a quick in person chat can clear up miscommunications in minutes.
Clarity: It allows each member of the marketing team to understand who is doing what, and how it fits within the campaign and organizational goals and objectives.
Accountability: Being in constant contact with your manager and peers helps to create a better sense of accountability. You will have a better idea of what is expected of you, and you will work harder and be more motivated to deliver. If you don't, the huddles are an opportunity for you and others to hold people accountable when they don't meet expectations.
A team mentality: Even though many people work on teams, days can go by without seeing some of your team members in person. This can cause people to work in a vacuum and create a disconnect. Seeing your team in person each day helps promote the team first mentality and encourages greater interaction – helping to create a more cohesive and collaborative environment.
5 Tips to Have a Great Morning Huddle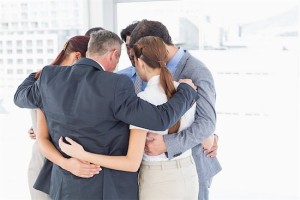 Every company has a different approach to team huddles, and it's important to make them unique to your work environment. Here 5 tips that will help you get your huddles off to a great start:
1. Have a purpose: Use it to check in with team members and see what their day looks like.
2. Everyone should talk: Give everyone the chance to talk, share information, and provide updates about what they are working on.
3. Keep it short: The shorter you can keep it, the better. Aim for about 10 minutes.
4. Have it first thing: Have the huddle first thing in the morning when everyone is fresh and energized.
5. Have it in the same place: Having your huddle in the same place at the same time each day ensures everyone knows where they need to be.
Learn more from our marketing recruiters in Toronto by checking out these blog posts:
Companies Need to Move Fast or Risk Losing Top Marketing Talent
The Pros and Cons of Hiring a Full-Time vs. Freelance Marketer
The 3 BIGGEST Challenges Marketers Face in Today's Marketplace
……………………………………………..
IQ PARTNERS is an Executive Search & Recruitment firm with offices in Toronto and Vancouver. We help companies hire better, hire less & retain more. We have specialist teams of recruiters in Financial Services & Insurance, Marketing Communications & Media, Emerging Tech & Telecom, Consumer Goods & Retail, B2B & Industrial, Technology, Accounting & Finance, HR & Operations and Mining & Engineering. IQ PARTNERS has its head office in Toronto and operates internationally via Aravati Global Search Network. Click here to view current job openings and to register with us.