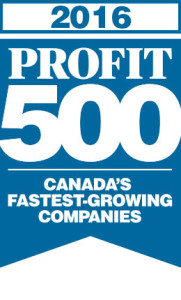 IQ PARTNERS is proud to be named for the fifth time as a PROFIT 500 Fastest-Growing Company by Canadian Business and PROFIT.  Published in the October issue of Canadian Business and at PROFITguide.com, the PROFIT 500 ranks Canadian businesses by their five-year revenue growth.
"We set out to be a growth company from the beginning so we're pretty proud of this honour" said Bruce Powell, Managing Partner. "Not only that, the challenge keeps getting bigger as each year so as a company it keeps us on our toes.  We're hoping to be back again next year!"
IQ PARTNERS is an Executive Search & Recruitment firm supporting clients across the country. We help companies hire better, hire less & retain more. We have specialist teams of recruiters in Financial Services & Insurance, Marketing Communications & Media, Emerging Tech & Telecom, Consumer Goods & Retail, B2B & Industrial, Technology, Accounting & Finance, HR & Operations and Mining & Engineering.
"Companies become a part of the PROFIT 500 through innovative thinking, smart strategy and sheer grit," says James Cowan, Editor-in-chief of PROFIT and Canadian Business. "These firms demonstrate what Canadian entrepreneurs can achieve, both at home and across the globe."
PROFIT is Canada's preeminent media brand dedicated to the management issues and opportunities facing small and mid-sized businesses. For 33 years, Canadian entrepreneurs across a vast array of economic sectors have remained loyal to PROFIT because it's a timely and reliable source of actionable information that helps them achieve business success and get the recognition they deserve for generating positive economic and social change. Visit PROFIT at PROFITguide.com.
Want your company to appear on this list next year? Hiring better is the #1 way to grow your company fast.  Learn more about the Hiring Habits of Canada's Fastest-Growing Companies and give us a call.