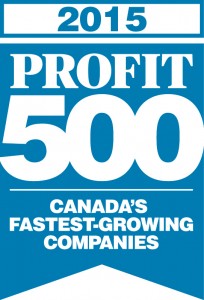 IQ PARTNERS is proud to be named a PROFIT 500 Fastest-Growing Company by Canadian Business and PROFIT for the fourth time.  Published in the October issue of Canadian Business and at PROFITguide.com, the PROFIT 500 ranks Canadian businesses by their five-year revenue growth.
"The PROFIT 500 represent the highest tier of entrepreneurialism in Canada," says James Cowan, Editor-in-chief of PROFIT and Canadian Business. "They should be lauded for the positive economic contributions they've made to their communities—and the entire country.  They are examples of what can be accomplished with innovation, discipline and determination."
"IQ PARTNERS is proud to be No. 193 on the PROFIT 500 ranking for the fourth time," says Managing Partner Bruce Powell. "It is a reflection of the dedication of our recruiters and the high level of service we are able to provide to our clients."
As executive headhunters, we know that hiring better is the key to rapid growth in any company.  Your people are your greatest asset.  Check out our blog on the Hiring Habits of Canada's Fastest-Growing Companies.
……………………………………….
About PROFIT and PROFITguide.com
PROFIT is Canada's preeminent media brand dedicated to the management issues and opportunities facing small and mid-sized businesses. For 33 years, Canadian entrepreneurs across a vast array of economic sectors have remained loyal to PROFIT because it's a timely and reliable source of actionable information that helps them achieve business success and get the recognition they deserve for generating positive economic and social change. Visit PROFIT at PROFITguide.com.
About Canadian Business
Founded in 1928, Canadian Business is the longest-serving, best-selling and most-trusted business publication in the country. With a total print readership of more than 600,000, it is the country's premier media brand for executives and senior business leaders. It fuels the success of Canada's business elite with a focus on the things that matter most: leadership, innovation, business strategy and management tactics. We provide concrete examples of business achievement, thought-provoking analysis and compelling storytelling, all in an elegant package with bold graphics and great photography. Canadian Business—what leadership looks like.
About IQ PARTNERS
IQ PARTNERS is an Executive Search & Recruitment firm with offices in Toronto and Vancouver. We help companies hire better, hire less & retain more. We have specialist teams of recruiters in Financial Services & Insurance, Marketing Communications & Media, Emerging Tech & Telecom, Consumer Goods & Retail, B2B & Industrial, Technology, Accounting & Finance, HR & Operations and Mining & Engineering, Sciences, and Construction, Property & Real Estate. IQ PARTNERS has its head office in Toronto and operates internationally via Aravati Global Search Network. Click here to view current job openings and to register with us.