LinkedIn is a key pillar of any job search. It's the place people go to look for jobs and the platform recruiters use to find the best talent. So, if you are looking for a job this fall, you need to make sure that LinkedIn plays a big role, or you could be missing out on connections with top companies and recruiters.
Below our HR recruiters talk about some things you can do to boost your fall job search: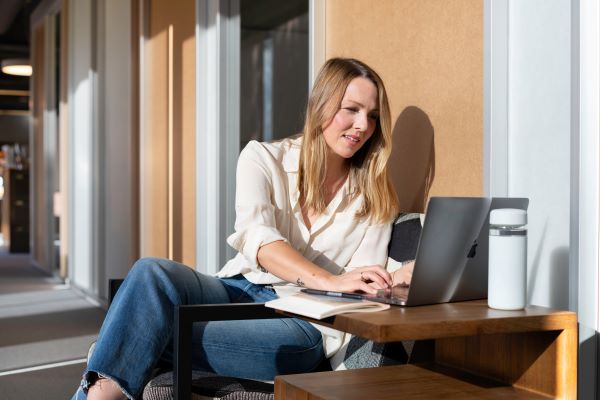 What is your job search strategy?
You need a job search plan. You need something to strive for. You need some objectives and goals. A North Star to strive for when searching or you can get lost in the weeds. Before you start looking, put some time into defining what you are looking for. Think about job titles, companies, and how your next move will affect your career now and into the future. With this in mind, you can then start leveraging LinkedIn and figure out how it fits into your job search.
Connect with your target companies you'd like to work with
Once you know what you are looking for, a great first step is to connect with the companies you'd like to work for. This will help you see when they are hiring. You can also engage with their content to get your name out there. See if you know anyone who works at the company. They may be able to put a word in for you and get your resume in front of the right people.
Make yourself easy to find on LinkedIn
If you want recruiters and hiring managers to find you, you need a strong profile. The vast majority of recruiters use LinkedIn as a main source to find potential employees. And, if you don't have a strong online presence (LinkedIn especially) there is less of a chance a recruiter will contact you.
Here's some advice for how to optimize your profile: It's Time for a LinkedIn Profile Update. Does Yours Check These 5 Boxes?
Learn the ins and outs of LinkedIn Jobs
Spend some time learning how  LinkedIn jobs work. There are a lot of useful tools that you can use to refine your search. It provides you with suggested job searches based on your profile and search history, job alerts, and allows you to upload your resume and share your job search status.
Consider signing up for LinkedIn Premium
A final way to boost your fall job search is to sign up for LinkedIn Premium. According to LinkedIn, premium members are 2.6x more likely to get hired on LinkedIn.
You can sign up for a 1-month trial and you can cancel anytime. So, once you find a job, you can cancel if you want.
But while you have the subscription you can enhance your job search abilities by using InMail credits, seeing who's viewed your profile by taking LinkedIn learning courses and accessing more job search advice.
Get some more tips here: 3 Ways to Improve Your Chances of Getting Noticed by Recruiters on LinkedIn.
More Recent Blogs From Our HR Recruiters
Is "The Great Resignation" Over?
How to Use Threads to Hire & Get Hired
These Were The Most In-Demand Jobs This Summer
IQ PARTNERS is an Executive Search & Recruitment firm supporting clients across Canada and internationally. We help companies hire better, hire less & retain more. We have specialist teams of recruiters in Executive Search / Board & C-Suite, Technology, Media, Digital & Marketing, Accounting & Finance, Financial Services & Insurance, Startup, Data Science, Consumer, eCommerce & Retail, HR, Manufacturing, Supply Chain & Engineering, Construction & Engineering, Legal & Professional Services, Pharmaceutical & Life Sciences, and Sales. Click here to view current job openings and to register with us.