When you think of the financial district and accounting firms, you think of rows and rows of employees in suits and business attire. However, this notion is starting to change as more firms are taking a more casual approach to dress codes and company culture.
"Don't be surprised if your accountant shows up to work in khakis and a polo shirt – or in jeans and a T-shirt. Even traditionally buttoned-up accounting and finance professionals are trading in their suits for more casual workplace attire," says Allegra Nagler on Accounting Web.
In fact, very few firms still have a formal dress code. Following the lead of many other industries, many finance companies have taken a more relaxed approach to employee dress codes. This is one of the many ways they are starting to loosen up and create a more appealing organizational culture.
If your firm has yet to loosen up on the dress code, it's something you may want to consider. A dress code does have an impact on company culture, and it's one of the many things potential candidates will look at when determining whether or not your company is an organization they would consider working for.
4 Tips to Loosen Up the Dress Code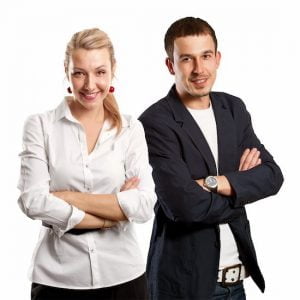 By no means are we suggesting that you scrap the dress code and allow a free-for-all. Your employees still need to retain a professional image. Here are some tips to loosen up your company dress code and culture:
Have management set the tone: Your managers are the perfect people to set the tone for a more casual environment.
Be specific: Don't leave anything open for interpretation. Be specific about the new dress code and expectations for employees. Included guidelines if possible.
Baby steps: If you are not sure if you want to change the dress code or how informal you want to go, consider a trial run.
Consider the situation: Depending on what employees are working on or who they are meeting with, you could provide them with some flexibility. For example, if they are working at their desk all day, then more casual and comfortable attire is okay. However, if they are meeting with clients or attending meetings, then they should dress more formally.
These tips can help loosen up the dress code and company culture and help it become a more inviting workplace that top candidates will consider.
More Finance and Accounting Recruiting Tips
Candidates Pay Attention! Finance Skill Requirements Are Changing Fast
3 Simple Tips to Keep Your Mind Strong and Sharp
Hiring Finance Professionals? A Hiring Agenda to Break Out of Interview Complacency
5 Ways to Spot Future Finance Industry Leaders
IQ PARTNERS is an Executive Search & Recruitment firm supporting clients across the country. We help companies hire better, hire less & retain more. We have specialist teams of recruiters in Financial Services & Insurance, Marketing Communications & Media, Emerging Tech & Telecom, Consumer Goods & Retail, B2B & Industrial, Technology, Accounting & Finance, and HR & Operations. IQ PARTNERS has its head office in Toronto and operates internationally via Aravati Global Search Network. Click here to view current job openings and to register with us.