Success in marketing has a lot to do with reviewing current practices, identifying trends, and making adjustments. Recruiting is very similar in this sense. With fewer candidates and more competition, it's never been more important to have an efficient recruiting process.
Here, we outline the top ways to improve your recruiting efficiency to compete for top marketing talent:
1. Always Be Recruiting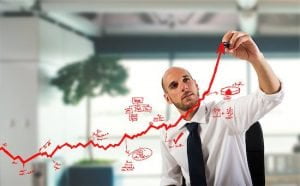 Always be recruiting to find the best marketing talent. Being reactive could limit your ability to compete for talent. Being prepared and always on the lookout for potentially game-changing talent puts you in a position to succeed. Keeping your job descriptions up to date, reviewing industry trends, knowing compensation ranges, and having a pool of potential candidates will help you to react quickly and hire more effectively.
2. Include Others to Determine Needs
You need to know what you are looking for to hire the right person. Including multiple people in the hiring process will give you a better perspective of your company's needs and the type of candidate who will fit within your organization. Include people who will work directly with the candidate – they will have the best idea of what the job requires and the type of person who is ideal for the role.
3. Be Specific With Job Ads
Put time into your job descriptions. Using a template and making blanket statements about the role will attract all types of candidates. Be laser focused with your job description to attract the right people. Be as specific as possible when describing the role and desired skills and experience.
4. Create a Consistent and Repeatable Process
Compare apples to apples. All candidates should go through the same process. They should answer very similar questions, meet with the same people and be assessed using the same criteria. This will help you to more effectively compare candidates to each other and determine which is the best fit for the job.
5. Consult With a Recruiter
Often, an outside perspective can help you vastly improve your hiring process. Consulting with a recruiter can bring to light hiring inefficiencies that you can't see or may have overlooked. There is always room to improve efficiency, and recruiters can help your organization find the type of people you need to succeed.
More Tips for Recruiting in Marketing
In Demand Skills for Career Progression in Marketing
Common Mistakes to Avoid When Writing Marketing Job Ads
4 Recruitment Marketing Trends ALL Companies Should Try
---
IQ PARTNERS is an Executive Search & Recruitment firm supporting clients across the country. We help companies hire better, hire less & retain more. We have specialist teams of recruiters in Executive Search / Board & C-Suite, Technology, Media, Digital & Marketing, Accounting & Finance, Financial Services & Insurance, Cannabis, Startup, Data Science, Consumer, eCommerce & Retail, Operations & HR, Manufacturing, Supply Chain & Engineering, Legal & Professional Services, Pharmaceutical & Life Sciences, Non-Profit & Sustainability, and Sales. IQ PARTNERS has its head office in Toronto and operates internationally via Aravati Global Search Network. Click here to view current job openings and to register with us.