Executive level talent can have a HUGE impact on the success of your organization. They affect the culture, performance, and perception of your brand.
Finding the right people to lead and represent your organization is a very important decision. You want strong leaders. But how you define leadership will vary based on your company culture, objectives, gaps, and needs.
"Everybody defines leadership differently but I really like the way John C Maxwell defines leadership, 'A leader is one who knows the way, goes the way, and shows the way.' Irrespective of how you define a leader, he or she can prove to be a difference maker between success and failure. A good leader has a futuristic vision and knows how to turn his ideas into real-world success stories," says Sarmad Hasan on the Taskque blog.
What does a leader for your organization look like? What characteristics and qualities do they possess? Here, our Toronto executive recruiters outline some of the top leadership qualities to look for in your next executive search:
1. Vision
Great leaders have a vision. They know what they want to achieve, and they are effective at communicating this purpose to the rest of the organization. They have a passion for this vision, they champion it, and they make it clear how each person in the company fits into this vision.
2. Transparency
Top leaders are transparent. They make it clear what their intention and goals are for the company. They don't mince words and they are upfront and honest with people. You know where you stand with them. They are good at explaining what needs to be accomplished and why.
3. Exceptional Communicator
In order to speak the word about their vision, executives need to be great communicators. They need to be able to regularly communicate strategies, goals, and objectives that get employees excited and motivated. They can get their team to buy in and become engaged.
Great leaders are not only great at communicating their vision, but they are also great listeners. They are willing to listen to alternative perspectives. They offer employees the opportunity to give their input. Communication is a two-way street.
4. Self-Motivation
You want a leadership team that is motivated to achieve. Top executives have internal motivation. They have an internal fire to be successful. This is their driving force to help your company achieve business objectives. Self-motivated leaders love what they do. If their core values are aligned with your company culture, they can achieve great things.
5. Self-Awareness
Ego can be an issue at the executive level. Many executives allow their ego to take over, which can have a negative effect on your company. Look for people who are self-aware and know how to check their ego. They can accept they won't always be right and there are better ways to do things. These people will have a company-first approach in everything they do. They will encourage others to strive for great things and won't feel threatened by up-and-coming talent internally.
6. Adaptive to Change
Things are always changing. There are new ways to do business, innovations, new risks, threats, new markets, and competitors. Top executives understand the changing landscape of your industry, and they are ready and willing to change when needed. They are open to new ideas, they are proactive, and have their finger on the pulse of new trends.
7. Emotional Intelligence (EQ)
Emotionally intelligent people are in high demand. New skills can be taught. Emotional intelligence is not as easy to develop. Leaders need to have compassion. They need to care about their people and make an effort to support their team.
8. They Empower Others
Successful companies have an inclusive and collaborative culture. Good executives foster this by empowering others. They help employees reach their potential, maximize their skills and ensure new opportunities are available. They make it possible for others to have a meaningful effect on the company.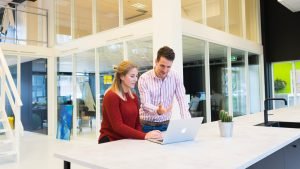 9. They Are a Problem Solver
All companies have problems. It's part of a leader's role to solve these issues. Top executive talent has a knack for overcoming obstacles and solving problems quickly and effectively. They are well equipped to help your company to keep moving forward, even during turbulent times. When difficult decisions need to be made, they won't put off making them.
10. Accountability
If a leader is not accountable for their actions, it will be challenging to get others to do the same. Great leaders take the brunt of the blame when things go wrong. They also give credit to others when it's due. They hold themselves accountable, and they hold others to the same high standards.
Learn More About Executive Talent and Leadership
Check out our executive recruiter blog to get more insights about hiring top-level executives:
Are You Prioritizing Retention? 5 Ways to Retain Top Executive Talent
Searching for an Executive Position? 4 Things You MUST Include on Your Resume
Hiring an Executive Director? Look for These Must Have Traits
How to Find and Keep Tech People When the Market Is So Hot (Hint: Hire Tech Leaders)
8 Quick and Effective Ways You Can Be a Better Leader
---
IQ PARTNERS is an Executive Search & Recruitment firm supporting clients across the country. We help companies hire better, hire less & retain more. We have specialist teams of recruiters in Executive Search / Board & C-Suite, Technology, Media, Digital & Marketing, Accounting & Finance, Financial Services & Insurance, Cannabis, Startup, Data Science, Consumer, eCommerce & Retail, Operations & HR, Manufacturing, Supply Chain & Engineering, Legal & Professional Services, Pharmaceutical & Life Sciences, Non-Profit & Sustainability, and Sales. IQ PARTNERS has its head office in Toronto and operates internationally via Aravati Global Search Network. Click here to view current job openings and to register with us.