If you are looking to land an executive level position, you need an executive quality resume. You are competing with top talent and experienced professionals for highly competitive roles. You need to look the part and so does your resume. As they say, dress for the job you want. This applies to your resume and application, as well.
We've been helping Toronto companies search for executives, c-suite and board positions for 20 years. We polled our top 5 executive recruiters and came out with 4 things we've learned about taking your resume to the executive level:
1. Experience Over Education
Yes, your degree is important, but what you've done lately is what executive search companies really want to read about. Always put your most relevant and recent experience before your education on your resume. Remember, you can mention your academic credentials in your executive summary, cover letter, or even in the application email. Focus on your last decade or so of work experience if you have an extensive track record. You can also speak about other career accomplishments during the interview.
2. Show Your Impact With Stats and Figures
When in competition for executive roles, you can expect other candidates to have similar years of experience and skills. But what separates the pretenders from the contenders is the impact they make on the companies they work for. The numbers don't lie, so make them front and center on your resume. Include a career highlights section that outlines:
How you drove growth
Improved sales
Saved companies money
Implemented new systems
Made companies money
Use numbers, facts, and statistics to show the results you've achieved in your career to this point.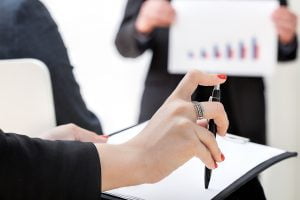 This is what will get a hiring manager and executive search firms interested in you. Results will get your foot in the door for a job interview.
3. Use Information Specific to the Executive Role You Want
Even if you've accomplished a lot in your career to this point, hiring managers are only interested in your experience, skills, and results that are directly related to the executive role they are doing the search for. Avoid including too much information. Stick to the most important and relevant information that is applicable to the job you want; whether it's a CMO, CRO or CTO. Make sure everything you include in your resume is directly related and crafted for the job.
4. Executive Level Competencies
Include the keywords, skills, and core competencies that shape your executive profile and image. Now is not the time to list your Microsoft PowerPoint skills. Focus on executive level skills. You can get a good idea of where to focus by reading the job description and learning more about the role and company.
Get More Executive Search Advice From Toronto Recruiters
Hiring an Executive Director? Look For These Must Have Traits
What NOT to Do When Interviewing for Multiple Jobs. 3 Things to Avoid
Four Underrated Ways to Use LinkedIn to Boost Your Job Search
---
IQ PARTNERS is a Toronto Executive Search & Recruitment firm supporting clients across the country. We've been helping clients hire at board level, every C-Suite position going and at the country or general manager level. We know that the kind of talent that can take your company to the next level doesn't appear by accident so we're a direct-contact recruiter meaning we don't just advertise positions – we proactively 'headhunt' your next superstar. 97% of our clients rate our professionalism industry knowledge as 'above average. Click here to view current job openings and to register with us.