According to Toronto recruiters, interviewing for more than one job at a time is increasingly common. It's an ideal situation for candidates. Having career options is always a good thing, but how you handle the situation is what matters. There is a right way and a wrong way to handle multiple job interviews.
"More job seekers are juggling multiple offers at once, creating sticky situations for all involved. How well candidates manage them can shape their long-term career satisfaction and their professional reputations," says Sue Shellenbarger in the Wall Street Journal.
In a previous post, we discussed how to successfully manage multiple job offers. Here we take a look at the other side – what NOT to do when interviewing for more than one job at a time.
Here are three things you shouldn't do:
1. Don't Leverage One Employer Against Another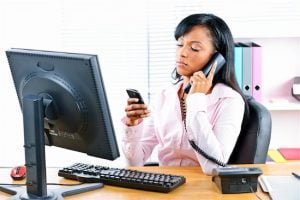 We all want to make more money, but when you receive an offer, trying to leverage it to get more out of another employer or your current company may not work out.
Trying to pit one employer against another and start a bidding war for your services is not a good idea. It can backfire on you if you are not careful. You never know how your current employer may react. What if they say no and then the other job doesn't work out? An offer of employment can fall through, and if an organization feels as though you are attempting to leverage them, they may opt to go with a different candidate, squandering your opportunity and potentially hurting your reputation.
2. Don't Communicate Decision Via Text
Choosing between multiple offers is a difficult decision. You want to make the best decision for your career. The decision you make will have a big impact on all parties involved, including the employers. As a professional courtesy, always communicate employment decisions via phone or in person. Avoid using text or email for declining an offer of employment, if possible.
3. Don't Make Your Decision Based on Salary
The best offer is not always the one with the highest salary, so don't make your decision based on salary alone. Think about the larger picture. What does the employment offer in totality? Think about your role, responsibilities, company reputation, an opportunity for advancement, professional development, and long term career advancement. Choose the offer that gives you the best chance to succeed long term. Avoid making career decisions based on short term factors.
Read More About Career Advancement – Advice From Toronto Recruiters
6 Tips to Successfully Manage Multiple Job Offers
3 Unconventional Job Search Strategies to Use to Your Advantage
---
IQ PARTNERS is an Executive Search & Recruitment firm supporting clients across the country. We help companies hire better, hire less & retain more. We have specialist teams of recruiters in Executive Search / Board & C-Suite, Technology, Media, Digital & Marketing, Accounting & Finance, Financial Services & Insurance, Cannabis, Startup, Data Science, Consumer, eCommerce & Retail, Operations & HR, Manufacturing, Supply Chain & Engineering, Legal & Professional Services, Pharmaceutical & Life Sciences, Non-Profit & Sustainability, and Sales. IQ PARTNERS has its head office in Toronto and operates internationally via Aravati Global Search Network. Click here to view current job openings and to register with us.