Have a position to recruit for in financial services? The finance world is changing fast and it's never been more challenging to find the right candidate that can stay on top of global competition and shifting demands for oversight. Being proactive with your financial recruiting efforts today is a must if you want someone who will make a lasting impact on your business. Remember you want the best financial people in the market not just the people on the market. We asked our Toronto financial recruiters (with years of experience and dedication to the financial industry) for the ways they spot top talent before the job interview process. They offered these 5 tips:
1. Ask Around the Financial World for Referrals
Referrals can be a significant source of leads when looking for great financial talent whether it's financial services or accounting and finance. We all know how hard it is to find great financial talent today. Getting a referral from an employee, a trusted colleague or someone you know is a well-connected player in finance is a great way to find new talent. Most people won't offer up recommendations unless the person has a track record of success.
2. Be Active Online
Top talent in financial services, and all industries, are online.  Many are active on social media and are part of online networks and groups within the financing industry. Look for financial services professionals in your area who have a strong online presence. It's a sign they are engaged in the industry and are a potential top performer.
3. Make Connections on LinkedIn
LinkedIn can be a treasure trove for top talent. 91% of executives say it's their preferred place to find content. Use the features and tools offered on the LinkedIn platform to seek out candidates in financial services who are open to making a career move. Be an active participant in financial services-related groups and look for people who have the qualifications you are seeking.
4. Network at Financial Industry Events
Not everyone is on LinkedIN and, of those who are, only 48% of LinkedIN users connect monthly. Often those are the busy financial top-performers you want to recruit. So while networking plays a key role in all industries, it's particularly important if you are hiring. Making the right connections at the right time can give you leads and access to top financial talent.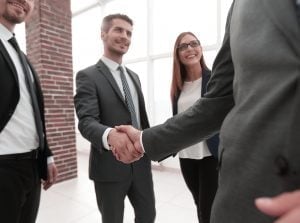 A finance industry event – whether it's for accounting types or financial services – is a great place to meet potential candidates and others who could make an introduction. Always be recruiting when attending financial conferences, trade shows, dinners, and when meeting with colleagues.
5. Engage Financial Talent Up and Comers
Don't discount up and coming talent in the financial sector and externally for financial talent working for private companies. Look to make connections with people at all levels in their financial services career. Consider running an internship program, sponsoring academic programs, or coming up with other ways to connect with up and coming talent in your region. As financial recruiters, we make over a hundred calls a day connecting with financial talent of all levels. While you won't be able to devote that sort of time, it's important to stay connected with rising talent.
Get More Financial Recruiting Advice With These Popular Blog Posts
5 Insightful Questions To Ask Financial Candidates
Year in Review: Highlighting the Best Financing and Accounting Recruiting Advice
4 Tips to Make a Strong Job Offer to a Finance Candidate
Top Skills To Look For In Great Financial Candidates
---
IQ PARTNERS is a leading Toronto recruitment agency with a dedicated team of financial recruiters. Whether you're recruiting Accounting & Finance talent or people to work in the Financial Services & Insurance sectors, our deep networks and relationships with top financial talent that go back decades will help you hire faster, hire better and even hire less.