According to Toronto recruiters, the questions you ask during the hiring process can have a significant impact on the quality of hire. Like most finance companies, you are likely always on the lookout for ways to hire better professionals.
There is always room for improvement. When was the last time you reviewed the questions you ask finance candidates during the interview process? It's always good, now and then, to review the questions you ask and refine your list to make sure you are asking the best questions possible.
Here are some of the top job interview questions to ask finance candidates:
1. What Motivates You to Succeed?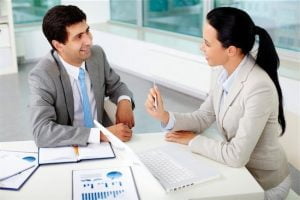 Understanding a candidate's motivation to succeed will help you quickly learn more about them as a person. Do they have a passion for the industry and type of work? Do they have the drive to be successful? Is it all about money? Or is it a combination of these motivators?
2. What Makes You Different? What Can You Add to This Role Others Can't?
The best candidates can offer skills and experience that others cannot. Asking this question helps you quickly understand a candidate's key differentiators and how they can help your company in a unique way. It's a great question to ask to compare candidates' unique offerings.
3. Why Finance?
It's important to look for candidates who have a genuine interest in working in the finance industry. Asking about why they chose finance will provide insight into their passion for finance and whether they are focused on working in finance or if it's just one of many industries they are considering.
4. What Is Your Five Year Plan?
Candidates have a career plan. You have a plan for how the candidate can fit within the company. Ask this question to see if a candidate's career plans match up with the current role and future roles within the organization.
5. Why Did You Apply to Work For Our Company?
Asking this question will tell you immediately how much time and effort the candidate put into researching your company, the role, and preparing for the interview. It will also provide you with insight into how they prepare and approach work. Good habits are important, and if the candidate cannot provide you with a strong answer, it could be a sign they are ill-prepared for the role.
More Tips From Toronto Recruiters For Recruiting In the Finance Industry
4 Reasons Why Your Finance Firm Needs a Large Talent Pool
4 Things to Do When You Lose a Top Employee
3 Innovative Recruitment Methods to Consider for Finance and Accounting Firms
---
IQ PARTNERS is an Executive Search & Recruitment firm supporting clients across the country. We help companies hire better, hire less & retain more. We have specialist teams of recruiters in Executive Search / Board & C-Suite, Technology, Media, Digital & Marketing, Accounting & Finance, Financial Services & Insurance, Cannabis, Startup, Data Science, Consumer, eCommerce & Retail, Operations & HR, Manufacturing, Supply Chain & Engineering, Legal & Professional Services, Pharmaceutical & Life Sciences, Non-Profit & Sustainability, and Sales. IQ PARTNERS has its head office in Toronto and operates internationally via Aravati Global Search Network. Click here to view current job openings and to register with us.