No one wants to think about losing their best employee, but it happens. And it can happen to your organization. Employees have never been more willing and likely to leave than today. Candidates know they have career options, and if they are not satisfied in their current role, they'll look elsewhere.
Losing your top employee can be a major blow to any company in the finance industry. Your natural reaction may be a negative one, but it's important to think from a professional and not emotional standpoint. You have a business to run.
How you react in this situation can have a big impact on how your organization moves forward. You have a team of other employees that you need to take care of or you could lose them as well.
Here are 4 things you need to do when you lose a top employee:
1. Be Professional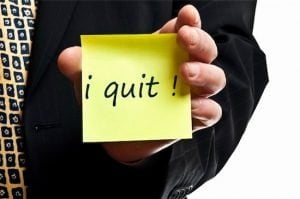 How you treat the outgoing employee is important. It says a lot about how you operate. Remember, your other employees are paying attention and will take notice. Holding a grudge or speaking poorly about an outgoing employee could hurt morale and cause others to question you.
2. Do an Exit Interview
Exit interviews are highly valuable to learn the reasons why you are losing a top employee. They can also bring to light other issues that could be present. You can learn about things that are not working and gain some insights into how they can be fixed.
3. Talk to Your Team
It's important to address your team to make sure that they are getting the right story. Make sure to address any gossip and set the stage for moving forward. Challenge your team, listen to their opinions, and find out how everyone is feeling. Explain the steps for how things will work moving forward until a replacement can be found.
4. Meet With Your Team Members Individually
Meeting your current employees individually is a great way to see how specific employees feel about the situation. It shows you care about them, value their insights and it can help keep morale up at a time when many companies see it take a dip. This is an opportunity for you to build trust with your team members and potentially prevent your company from losing another top employee.
More Accounting and Finance Recruiting Tips From a Toronto Recruitment Agency
3 Innovative Recruitment Methods to Consider for Finance and Accounting Firms
Finance Recruiting Is Changing – Find Out How
Signs You Should Use an Accounting Recruiter
---
IQ PARTNERS is an Executive Search & Recruitment firm supporting clients across the country. We help companies hire better, hire less & retain more. We have specialist teams of recruiters in Executive Search / Board & C-Suite, Technology, Media, Digital & Marketing, Accounting & Finance, Financial Services & Insurance, Cannabis, Startup, Data Science, Consumer, eCommerce & Retail, Operations & HR, Manufacturing, Supply Chain & Engineering, Legal & Professional Services, Pharmaceutical & Life Sciences, Non-Profit & Sustainability, and Sales. IQ PARTNERS has its head office in Toronto and operates internationally via Aravati Global Search Network. Click here to view current job openings and to register with us.