Being the right candidate for the job is about more than where you went to school and the skills you currently have. New skills can be taught, and training can make up for many skill or process-related shortcomings. Increasingly, companies are looking for financial job candidates who fit within their organizational culture.
The truth is most job candidates have the hard skills and job requirements companies are looking for, and increasingly, personality traits are becoming the differentiating factor in the hiring process.
When applying for a financial position, ask yourself:
Do I fit within the company's organizational culture?

Can I see myself fitting in quickly?

Do my personal values align with the company's values?
Read the company's mission and value statements, check out their website, and follow them on social media. These will all be indications of their internal culture. However, there are certain characteristics of successful financial job candidates that companies are looking for:
1. Analytical skills
Crunching numbers is one thing, but having the innate ability to interpret meaning in order to forecast future trends is something that all companies are looking for in financial professionals. This ensures you have a solid foundation. Your ability to gather and analyze information effectively and draw logical conclusions is essential in the financial industry.
2. Leadership
Companies want leaders, and during the hiring process, successful organizations are looking for their leaders of tomorrow. Make it clear that you want to take on leadership roles, lead projects and teams, and have the opportunity to grow into a leadership role.
3. An effective communicator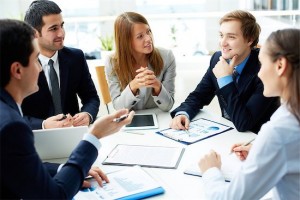 Being a strong communicator is a key skill for any career. Companies want team members who have the ability to communicate, not only with their coworkers and managers, but also with others within the organization and external individuals. Remember, your communication skills will be on full display during your interview and through every interaction you have with the organization during the hiring process.
4. A self-starter
Organizations want people with initiative. They want professionals who don't need to be told what to do and people who have the ability to execute tasks and initiatives without direct supervision. This is what will turn you into an asset.
5. Technology acumen
Technology skills are a must have today. Being able to quickly adapt to new technologies as they come to market and use a variety of analytics tools make you a more attractive candidate. Are you good with technology? Do you learn new programs and platforms quickly? Are you familiar with industry standard technologies?
Remember that these are only a few of the many characteristics that companies are looking for in a financial job candidate. Other things, such as problem solving, professionalism, confidence, and flexibility working in a variety of situations will also play a role in your ability to get the job.
If you are a financial professional looking to take the next step in your career or an organization seeking to hire top talent, our Financial Services & Insurance Recruiters in Toronto can help. Contact us to learn more.
Read more tips from our Toronto headhunters for job seekers:
Interview Tips From a Headhunter: 8 Things Rock Star Candidates Always Do
IQ In the News: Carly-Anne Fairlie on Landing Your Dream Job
……………………………………………..
IQ PARTNERS is an Executive Search & Recruitment firm with offices in Toronto and Vancouver. We help companies hire better, hire less & retain more. We have specialist teams of recruiters in Financial Services & Insurance, Marketing Communications & Media, Emerging Tech & Telecom, Consumer Goods & Retail, B2B & Industrial, Technology, Accounting & Finance, HR & Operations and Mining & Engineering. IQ PARTNERS has its head office in Toronto and operates internationally via Aravati Global Search Network. Click here to view current job openings and to register with us.