Young professionals today want to move up the corporate ladder as fast as possible. They want management positions, they want to have senior consultant roles and they want to advance their career at warp speed.
Finance and accounting professionals are no different. They want to crunch the numbers right up to the top of their organization, and for some, it's a possibility. You just need to have the skills and wherewithal to do it.
Jeff Thomson, a writer with Forbes, interviewed one such professional, Ben Mulling, who was able to become a Chief Financial Officer (CFO) at the very young age of 28.
How did he do it?
5 Tips to Advance Your Finance Career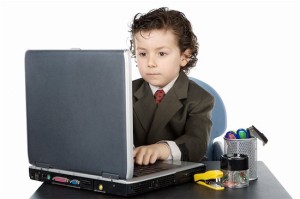 The following outlines some of the key lessons to put yourself in a position to reach your career goals at a young age:
1. Work on your soft skills: Most young finance professionals have the academic and professional certification requirements handled, but they lack the communication and leadership skills to handle senior positions. "In the end, strong communication and leadership skills will set apart a senior accountant from a CFO and a good candidate from a great candidate," says Thomson.
2. Become an expert problem solver: At the management and executive level, you need to be able to solve complex issues. You need to be able to assess a situation or problem and solve it efficiently.
3. Complete your certifications: Once you finish school, continue your educational path by working on getting additional certifications, especially the Certified Management Accountant (CMA) if you want to work in a leadership role.
4. Get involved in the industry: Join associations, attend networking events and go to training seminars to meet new people, learn new ways of doing things, and stay up to date with the latest news and developments.
5. Specialize: Finding your area of specialization within finance is key. The earlier you can identify the area you want to focus on, the more you can gear your education, certifications, networking, and career toward working in your niche.
Following these tips will help you become a more well-rounded finance professional and put you in a position to move up when an opening presents itself.
Learn More About Careers in Accounting and Finance
Check out these blogs from our finance recruiters:
Finance Industry Ranked the Best for Benefits
Is Financial Planning the Way to Go for Finance Professionals?
5 Headhunter Approved Tips to Become a Rockstar Finance Job Candidate
An Overview of the Top Jobs in Accounting & Finance in 2016
IQ PARTNERS is an Executive Search & Recruitment firm in Toronto. We help companies hire better, hire less & retain more. We have specialist teams of recruiters in Financial Services & Insurance, Marketing Communications & Media, Emerging Tech & Telecom, Consumer Goods & Retail, B2B & Industrial, Technology, Accounting & Finance, HR & Operations and Mining & Engineering. IQ PARTNERS has its head office in Toronto and operates internationally via Aravati Global Search Network. Click here to view current job openings and to register with us.