A job interview is a company's opportunity to learn as much as possible about candidates on a professional and personal level. They want to find out if you have the qualifications to do the job and if you will be a good fit for the company culture. So, it's natural for an interviewer to ask candidates about themselves. Often, they do this by asking the all-too-common and dreaded interview question: "Tell me about yourself."
We asked our legal recruiters in Toronto to give us a rundown about the best way to approach "tell me about yourself" in a job interview: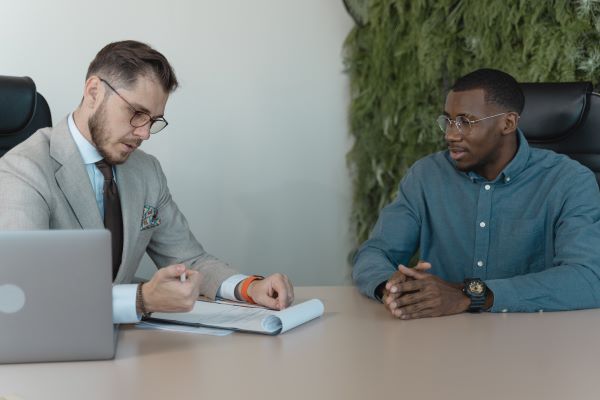 Start with a brief introduction
You can start your response to this question with a brief elevator pitch-style statement about who you are. State your name and current job title, and provide a quick overview of your relevant work experience, skills, and qualifications. Give them a high-level overview of who you are. Think about your introduction paragraph from your LinkedIn profile for inspiration. 
Highlight your accomplishments
Once you introduce yourself, outline your professional accomplishments. Talk about your best achievements and the ones that are relevant to the position. You can discuss things like projects you've led or completed, awards you've received, or any other achievements that demonstrate your skills and abilities. Stick to your top achievements. You don't need to list everything. 
Communicate your passion
Transition from your achievements to your passion. Tie them together if possible. Talk about why you are passionate about the industry or field you work in and how you have demonstrated that passion through your work. Use personal anecdotes to differentiate yourself from other candidates. 
Tie things into the current role
Now it's time to connect your experience, accomplishments, and passion to the specific job you are interviewing for. Quickly highlight experiences or skills that directly relate to the position. Make it clear why you are the best candidate for the job. 
Remember, the key is to keep your response concise and focused on your relevant work experience and accomplishments. This is only one question. You'll have the opportunity to expand on your answer later when answering other questions. 
When you use this approach for your response, you'll create a strong first impression and set the tone for the rest of the job interview. 
More From Our Legal Recruiters in Toronto
7 Phrases That Are Interview Killers
Are You Using ChatGPT to Apply for Jobs?
Do You Experience Interview Paralysis?
IQ PARTNERS is an Executive Search & Recruitment firm supporting clients across Canada and internationally. We help companies hire better, hire less & retain more. We have specialist teams of recruiters in Executive Search / Board & C-Suite, Technology, Media, Digital & Marketing, Accounting & Finance, Financial Services & Insurance, Startup, Data Science, Consumer, eCommerce & Retail, HR, Manufacturing, Supply Chain & Engineering, Construction & Engineering, Legal & Professional Services, Pharmaceutical & Life Sciences, and Sales. Click here to view current job openings and to register with us.