Hiring is very much an accounting-like decision. Hire the wrong candidate and it could be an expensive mistake and put your organization in the red if you continue to make poor hiring decisions.
The ability to separate real contenders from the rest of the pack can be determined by the type of questions you ask during the interview. You have limited time to speak with accounting candidates, make this time count by asking the right questions. Here are 5 interview questions from Toronto finance recruiters to ask accounting candidates: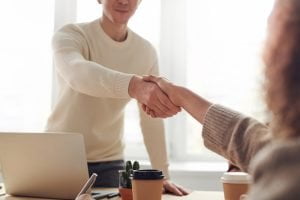 1. What made you want to apply here?
Accounting skills and qualifications aside, understanding a candidate's reason for wanting to apply to your company is important. You will get a better sense of their motivation, career focus, and how much time they spent researching your company. This helps you answer questions related to cultural fit.
2. What do you think about the latest developments in XYZ accounting news?
This is a good question to ask to find out how much a candidate keeps up to date with industry news and trends. The key here is to not get too specific. Don't expect candidates to be up to date on every piece of news. But ask about a trend or piece of news that all proactive accounting professionals should be following.
3. Explain a situation where you made an accounting mistake. How do you handle it?
People make mistakes, accountants included. It's how a person reacts and recovers from the mistake that matters most. Ask this question to see how candidates make it right. Do they take ownership? Are they proactive in correcting the mistake? Or do they place the blame on others?
4. What steps do you take to ensure your work is error-free?
Asking this question will give you insight into how thorough a candidate is. You'll learn about the process, tools, and resources they use to ensure the accuracy of their work.
5. What accounting tools do you use? Which do you find most effective?
Asking this question will give you an idea of the types of software programs and tools the candidate uses. You can compare their answer to what you use internally to understand their skill level and need for upskilling if you choose to hire them.
More Accounting and Finance Recruiting Tips From Toronto Headhunters
Are You Hiring the Right People? 6 Qualities of a Top Finance Candidate
Recruiting Financial Talent? 5 Ways to Spot Top Performers BEFORE the Interview
When Should I Hire an In-House Accountant? 4 Tips for Small Businesses
---
IQ  PARTNERS is an Executive Search & Recruitment firm supporting clients across the country. We help companies hire better, hire less & retain more. We have specialist teams of recruiters in Executive Search / Board & C-Suite, Technology, Media, Digital & Marketing, Accounting & Finance, Financial Services & Insurance, Cannabis, Startup, Data Science, Consumer, eCommerce & Retail, Operations & HR, Manufacturing, Supply Chain & Engineering, Legal & Professional Services, Pharmaceutical & Life Sciences, Non-Profit & Sustainability, and Sales. IQ PARTNERS has its head office in Toronto and operates internationally via Aravati Global Search Network. Click here to view current job openings and to register with us.