Since IQ PARTNERS is committed to helping our clients hire better, hire less, and retain more, we created a seven step guide to recruiter-proof your business using research and first-hand interviews with top companies like Google, Deloitte, LoyaltyOne, TD Bank, and Achievers.
Each month we'll share a little from each of the seven steps.  This month: why creating a corporate culture and sense of community is essential to employee longevity!  Click here to download the guide now, or read on for a teaser from step six.
Build Community
The Brutal Facts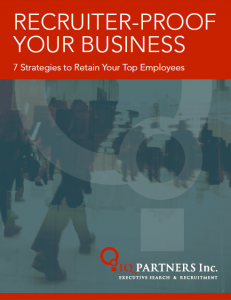 Highly engaged employees are 87% less likely to leave their companies.
18% of disengaged employees actually undermine their co-workers' success.
Employees that have fun at work are more innovative, less fearful of change, more productive, and more focused.
Employees enjoy working in an environment where they feel they're among friends.  People are working longer hours than in the past, and creating a culture in which employees enjoy coming to work is essential to retention.  However, research studies have reported that as few as 8% of companies have policies or procedures to encourage fun at work.
A great way to capitalize on existing professional relationships is to utilize a referral program, wherein employees are paid a bonus for referring a successful hire.  Referral programs not only solve a recruiting problem (as a general rule: good people know good people), but employee referrals also have a 45% retention rate after two years vs. 20% from job boards.
For more on building community as the sixth step to building an engaged workforce, download the full guide, Recruiter-Proof Your Business: 7 Strategies to Retain Your Top Employees.
………………………………………………….
IQ PARTNERS is an Executive Search & Recruitment firm with offices in Toronto and Vancouver. We help companies hire better, hire less & retain more. We have specialist teams of recruiters in Financial Services & Insurance, Marketing Communications & Media, Emerging Tech & Telecom, Consumer Goods & Retail, B2B & Industrial, Technology, Accounting & Finance, HR & Operations and Mining & Engineering. IQ PARTNERS has its head office in Toronto and operates internationally via Aravati Global Search Network. Click here to view current job openings and to register with us.