Hiring great talent is only part of a great recruiting program. You need to keep your accounting talent to gain a competitive advantage.
"Your firm's growth, success, and profitability depend on you being able to attract and retain top accounting talent. This enables you to put highly-qualified individuals on any given project, build your brand, and win new business," says Lee Frederiksen on Sage.com.
As they say, your employees are your greatest asset, and you can't afford for them to leave your company once you've successfully recruited and invested in them. Unfortunately, accounting firms struggle to retain top talent.
Retaining Top Talent Is a Top Challenge for Accounting Firms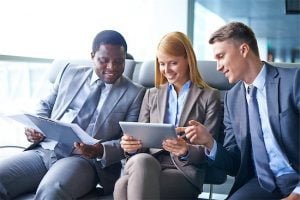 According to research by Hinge, attracting and retaining talent is a top challenge for accounting firms. They found:
7% of firms said attracting top talent and recruiting to be a top business challenge
4% of firms said reducing staff turnover and retaining talent to be a top challenge
How to Retain Top Accounting Talent
Here are 4 effective ways to improve your retention rates:
1. Represent Your Organization Accurately When Recruiting:
Avoid over-promising and under-delivering when recruiting. While it may be tempting to talk up your company, you need to be able to follow through with what you said during the recruiting process. You can't hire someone based on false or inaccurate pretenses. Provide an accurate representation of your workplace, company culture, compensation, and growth opportunities.
2. Become A Place People Want To Work:
The importance of a strong employer brand cannot be overstated. If you make your organization a destination workplace, people are going to want to work for you. Offer strong compensation, a good work environment, and provide your team with the type of perks and conditions that are attractive to them.
3. Treat Your Employees How You Treat Your Customers:
If you want to keep your employees, you need to treat them right. Value their opinion, give them the opportunity to contribute, and put them in positions to maximize their potential and best utilize their skill sets.
4. Support Them And Help Them Grow:
Making training and coaching a priority, offering professional development programs, and supporting your employees will not only help you grow, but it will also help your company thrive.
More Finance and Accounting Recruiting Tips
How to Attract Young Professionals to Accounting Careers
Employee Quit Rates Are on the Rise. How to Avoid Losing Good Employees
Top 5 Fintech Jobs of the Future
IQ PARTNERS is an Executive Search & Recruitment firm supporting clients across the country. We help companies hire better, hire less & retain more. We have specialist teams of recruiters in Executive Search / Board & C-Suite, Technology, Media, Digital & Marketing, Accounting & Finance, Financial Services & Insurance, Cannabis, Startup, Data Science, Consumer, eCommerce & Retail, Operations & HR, Manufacturing, Supply Chain & Engineering, Legal & Professional Services, Pharmaceutical & Life Sciences, Non-Profit & Sustainability, and Sales. IQ PARTNERS has its head office in Toronto and operates internationally via Aravati Global Search Network. Click here to view current job openings and to register with us.