It's that time of the year again – when we all make a list of resolutions that most of us don't keep. For many professionals, finding a new job is at the top of the list. The trouble with this resolution is it often requires you to take a number of additional steps and make other changes.
Here are 4 potentially career altering resolutions all job seekers should consider if you truly want to make a career move in the new year:
Eliminate the distractions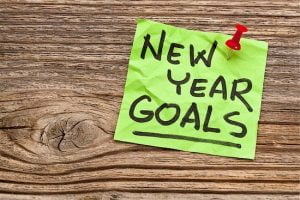 Distractions are everywhere – with your phone and social media leading the way. They are also killing your productivity. Whether you are trying to improve performance in your current role, make yourself a top candidate for a promotion, or you want to land a new job, you need to maximize your time. Eliminating distractions will help you be more focused on your career and the steps you need to take to meet your career goals.
Improve an area of weakness or two, or three
We all have weaknesses, but few of us put in the extra effort to improve upon them. We've never had more professional development opportunities available. Take advantage, even if you have to pay for it yourself. Improving a weakness will only make you a more agile and versatile professional.
Define where you are going
Are you spinning your wheels? Do you want to make progress in your career? Most of us do, but we also fail to define what we are trying to achieve. Put more thought into what you really want to get out of your career. Do you want a management or VP role? Do you want to lead a team? Once you know where you want to be in your career, you can then start taking steps toward your goals.
Meet new people
It's easy to stay within your social circle. But you are also missing out on so many opportunities to meet new people and potentially open new doors that could lead to career advancement. Join committees, become part of a professional association, go to networking events, volunteer, connect with others online. You never know who will be the catalyst for helping you make your next career move.
More Career Advice for Job Seekers
5 Tips to Plant the Seeds for a Successful Marketing Career
5 Attractive Benefits of a Career in Digital Marketing
How to Successfully Transition from Marketing Employee to Manager
IQ PARTNERS is an Executive Search & Recruitment firm supporting clients across the country. We help companies hire better, hire less & retain more. We have specialist teams of recruiters in Technology (IT), Accounting and Finance, Consumer Goods, eCommerce and Retail, Financial Services and Insurance, Startup, Cannabis, Big Data, B2B and Industrial, Operations and HR, Professional Services and Legal, Media, Digital and Marketing, Pharmaceutical and Life Sciences, Emerging Technology and Telecom, and  Sales. IQ PARTNERS has its head office in Toronto and operates internationally via Aravati Global Search Network. Click here to view current job openings and to register with us.