Burnout continues to be an issue. Tight deadlines, heavy workloads, and the pressure of meeting expectations gets to people sometimes. But the feeling of being overextended is more common today.
We're not going to sugar-coat it – people are more burnt out than ever. We see it here at IQ PARTNERS and with our candidates and clients. The boundary between work and home has become increasingly blurred and it's leading to major burnout.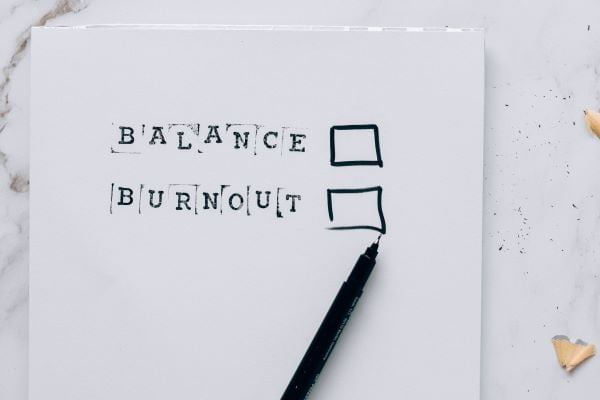 We talked to our recruiters at our Toronto recruitment agency to get some insights about the realistic ways to beat burnout and stay engaged. Here is what they recommend you do if you sense that you're overextended.
Be honest with yourself and your employer
Too often people put on a brave face and push forward. We tell ourselves it's time to "dig deep." But the reality is you are only wearing yourself thin. If you are feeling exhausted, be honest with yourself. The time will come when you just need a break.
If you continue to push yourself too much, it can negatively affect your ability to stay engaged and it can show in your performance. So, rather than push through, take a break to recharge and refocus.
Prioritize self care
If you are not healthy, you will not be able to perform to the best of your abilities. This is why you need to prioritize self care. This can be many things – getting proper sleep, exercising, eating healthily, and having balance in your life.
Be conscious of when you start to feel worn out and adjust your behaviours. Knowing when to take your foot off the gas can help you maintain that all-important balance.
Focus on what you can control
At work, there are things you can control and other things that you cannot. It's important for you to keep this in mind when working. Not allowing yourself to get stressed or worry about the things that are not part of your job can help reduce your mental burden.
Minimize stress and anxiety triggers
Everyone has tasks and even people in the workplace that create higher levels of stress. For example, it could be a specific task you just don't like to do. Or you may have conflict with a particular person in the office. It these situations, it's important to have conversations with coworkers and management to try to reduce the stress. Perhaps it comes in the form of delegating tasks or doing some additional training to help you overcome these challenges.
If you have a heavy workload, sometimes you just need to learn to say "no" more often, especially if you are already feeling overextended. Talk with your boss and see if you can work something out.
Get More Insights About Employee Burnout on Our Recruiting Blog
Battling Another Wave of Employee Burnout? 3 Ways to Treat It
Business Is Booming: What You Can Do to Prevent Burnout
How You Can Help Employees Experiencing Burnout and Work-Related Stress
IQ PARTNERS is an Executive Search & Recruitment firm supporting clients across the country. We help companies hire better, hire less & retain more. We have specialist teams of recruiters in Executive Search / Board & C-Suite, Technology, Media, Digital & Marketing, Accounting & Finance, Financial Services & Insurance, Cannabis, Startup, Data Science, Consumer, eCommerce & Retail, Operations & HR, Manufacturing, Supply Chain & Engineering, Legal & Professional Services, Pharmaceutical & Life Sciences, Non-Profit & Sustainability, and Sales. Click here to view current job openings and to register with us.