Finding the right executive talent to fit your organization is a challenging endeavor. You want someone who fits within your company culture, can make an impact, and help lead your company into the future.
Executives have a large amount of influence on the direction and success of your company. That's why it's vital to be thorough with your executive search process. You need to have a strong recruiting process that can help you identify the best of the best. You cannot afford to make a poor hiring decision.
"Recruiting and hiring candidates and employees to your organization is probably the most crucial and decisive factor in the success of your company. So you can only imagine how much more important it is when hiring those top-level employees such as executives and upper management, who will be handling those issues for you," says Business Partner Magazine.
When interviewing and speaking with potential candidates, it's very important to be able to quickly identify potential red flags.
According to Toronto executive recruiters, here are 8 red flags that should put you on high alert: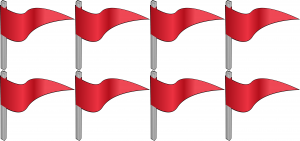 1. Too Much Job Hopping
Some movement is to be expected in today's business environment, but a little too much should be some cause for concern. An executive talent who jumps around too much could be a sign of ineffective performance or other issues. Make sure to ask questions about why the candidate has moved around so much. There could be a valid reason.
2. Less Than Stellar References
The type and number of references a candidate provides is important. If an executive candidate has less than stellar references, it should be concerning. Most people choose references they know will give them a great recommendation. So, if a candidate doesn't have sparkling references, you should investigate more. Consider contacting the candidate's previous employers to learn more about them and their time with the organizations.
3. Okay Communication Skills
Executive-level talent need to be excellent communicators. They should be clear, concise, and have confidence when speaking. If they fail to impress you with their communication skills, they may not be capable of communicating with and guiding your team.
4. Overconfidence
Confidence is important, but if it borders on arrogance, then you may have an issue with the candidate in the future. There is no room for egotism in healthy company cultures. Executives have a lot of influence. You need executives who are engaging and boost morale. Overconfident individuals will have a challenging time connecting with your culture and team.
5. Tunnel Vision
"Well, at XYZ Corporation, we did it this way."
There is more than one way to accomplish an objective. Be cautious of executives who have tunnel vision. They believe there is one way of doing things – their way. While implementing new protocols and processes is common, executives need to be open and have a willingness to take in feedback and see things from many perspectives.
6. They Don't Answer Interview Questions Directly
Some candidates can be evasive. If they are not answering your questions directly or they cannot give you solid real-life examples, it may be a sign they are masking something.  Executive candidates should be able to speak to their successes and provide good examples of how they achieved results. If they cannot, tread carefully.
7. They Are Slow to Respond to Your Inquiries
Identifying a great candidate is not easy. So, when you do, you'll want to engage them as quickly as possible. You also want the candidate to share your excitement. So, if a candidate is slow to get back to you, it could be a sign they are not that interested. They could also be weighing other options or have other offers. If they lack interest at this stage, it's unlikely this will improve in the future.
8. They've Only Worked for Smaller Firms
If an executive candidate has only worked in a non-corporate environment or has only worked for smaller organizations, it may be a sign they lack the right type of experience to do the job. They may lack knowledge of corporate best practices. This is not to say they couldn't be a great fit. They may just need some additional training during the onboarding process if you choose to hire them.
More Executive Talent Recruiting Insights
Check out these recent blogs from our Toronto executive recruiters. Get tips, tricks, and advice to help you recruit and hire better:
10 Leadership Qualities to Look for in Your Next Executive Search
Are You Prioritizing Retention? 5 Ways to Retain Top Executive Talent
Hiring an Executive Director? Look for These Must Have Traits
Seeking an Executive Level Finance Position? Use these Resume Tips
Searching for an Executive Position? 4 Things You MUST Include on Your Resume
---
IQ PARTNERS is an Executive Search & Recruitment firm supporting clients across the country. We help companies hire better, hire less & retain more. We have specialist teams of recruiters in Executive Search / Board & C-Suite, Technology, Media, Digital & Marketing, Accounting & Finance, Financial Services & Insurance, Cannabis, Startup, Data Science, Consumer, eCommerce & Retail, Operations & HR, Manufacturing, Supply Chain & Engineering, Legal & Professional Services, Pharmaceutical & Life Sciences, Non-Profit & Sustainability, and Sales. IQ PARTNERS has its head office in Toronto and operates internationally via Aravati Global Search Network. Click here to view current job openings and to register with us.