Bias is present in most things people do. Even if we are trying to be completely fair when assessing a person or situation, there is a level of bias that creeps into our decision-making process. This is called unconscious bias and occurs when you form an opinion solely based on your first impression. 
Obviously, this can be an issue when you are hiring. Making a decision or unconsciously skewing your assessment of a candidate based on a bias can prevent you from hiring the best candidate. It can affect diversity and the inclusiveness of your company culture. For this reason, many companies are embracing blind hiring to combat bias in the hiring process. Below, our recruiters outline what blind hiring is, how it reduces unconscious bias in the hiring process, and how you can reduce bias in your hiring process.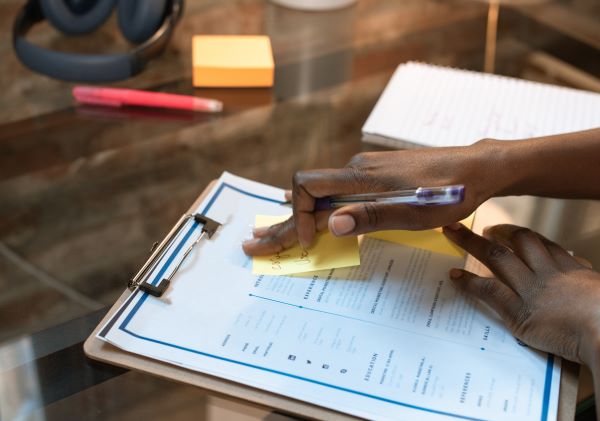 What is blind hiring?
Blind hiring is the process of removing characteristics from resumes and job applications that are not related to the job. It's not a random process; rather it's the deliberate removal of demographic characteristics such as the following:
Age

Gender

Ethnicity

Sexual orientation

Religion

Other information that could affect a hiring manager's/recruiter's bias
The overall goal of blind hiring is to reduce unconscious bias and increase equality in the hiring process. 
How does blind hiring reduce unconscious bias in your hiring process?
Blind hiring can help reduce bias in your decision making during the hiring process. It makes it more challenging for people to tap into unconscious bias when reading a resume or viewing a job application. Preconceived thoughts you have about age, gender, and other demographics are not part of your decision. Rather, you focus solely on an applicant's skills, experience, and qualifications. This helps you make a more balanced decision based on the factors that matter most. 
How to implement blind hiring practices in your recruiting strategy
There are a variety of ways you can limit unconscious bias in your hiring process. Here are some of the things our recruiters have seen that can be effective:
Making resumes anonymously

Removing demographic information from job applications

Investing in hiring bias awareness programs for employees

Tracking hiring metrics and making changes regularly

Using application tracking systems (ATS)

Working with an experienced recruitment agency

Get More Tips From Our Legal Recruiters
How to Hire Great Candidates Without Bias or Discrimination in 6 Easy Steps
4 Hiring Bias Study Statistics That May Shock You
Are You Guilty of Hiring Bias?
IQ PARTNERS is an Executive Search & Recruitment firm supporting clients across Canada and internationally. We help companies hire better, hire less & retain more. We have specialist teams of recruiters in Executive Search / Board & C-Suite, Technology, Media, Digital & Marketing, Accounting & Finance, Financial Services & Insurance, Startup, Data Science, Consumer, eCommerce & Retail, HR, Manufacturing, Supply Chain & Engineering, Construction & Engineering, Legal & Professional Services, Pharmaceutical & Life Sciences, and Sales. Click here to view current job openings and to register with us.