Finding and recruiting the best talent in the marketing industry is challenging. The ability to consistently hire the best people will give you a competitive advantage and make your organization better.
Recruitment marketing has proved to be an effective strategy to attract new candidates and help organizations reach their hiring goals. In this blog, Toronto recruiters take a look at what recruitment marketing is, how it works, and the benefits of implementing it as part of your recruiting strategy.
What Is Recruitment Marketing?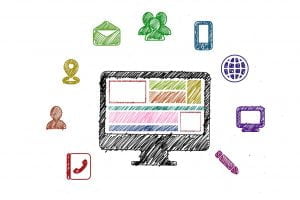 Recruitment marketing is an important strategy that helps you build and promote your employer brand within your industry. Using marketing strategies, you attract, engage and build relationships with top talent with the goal of building a strong talent pipeline.
Approach recruiting with a marketing mindset. Look at recruiting from a holistic perspective and seek to improve the candidate experience from first contact to hire.
The Stages of Recruitment Marketing
Similar to the marketing life cycle, there are 4 key stages of recruitment marketing:
1. Build awareness: Market your organization as a top employer brand across channels where potential candidates exist. This stage involves creating content, blogs, articles, and social media posts to establish your organization as a destination.
2. Generate interest: Once you make candidates aware of your presence, you need to create interest. Provide content that will get them more interested in your company as a potential employer.
3. Assess the talent pool: Once you've received interest from candidates, it's time to assess your talent pool to see which candidates seem like the right fit and who is not a good fit. Collecting detailed information about your candidate pool can play a key role in this process.
4. Take and encourage action: Identify the candidates you want to engage and create a memorable experience. Use your talent analytics to define the candidate experience steps.
Benefits of Recruitment Marketing
Recruitment marketing helps you improve your recruiting strategy and performance in a number of key ways:
Better overall candidate experience
Build your employer brand
Faster and more efficient hiring process
Reduce recruiting costs
Attract more qualified candidates
Segment candidates and establish talent pools
Build relationships with industry talent
More Hiring Tips for Marketing Firms From Toronto Recruiters
Get more recruiting advice by reading these blogs from our expert Toronto headhunters:
4 Social Media Recruiting Mistakes to Avoid
4 Innovative Ways to Recruit Top Marketing Talent
3 Effective Recruiting and Retention Tactics for Marketing Companies
---
IQ PARTNERS is an Executive Search & Recruitment firm supporting clients across the country. We help companies hire better, hire less & retain more. We have specialist teams of recruiters in Executive Search / Board & C-Suite, Technology, Media, Digital & Marketing, Accounting & Finance, Financial Services & Insurance, Cannabis, Startup, Data Science, Consumer, eCommerce & Retail, Operations & HR, Manufacturing, Supply Chain & Engineering, Legal & Professional Services, Pharmaceutical & Life Sciences, Non-Profit & Sustainability, and Sales. IQ PARTNERS has its head office in Toronto and operates internationally via Aravati Global Search Network. Click here to view current job openings and to register with us.