It's a good thing when a recruiter calls. It's a common occurrence for skilled professionals in high demand. Some receive calls every month, others less frequently. Sometimes you can have a recruiter unexpectedly call you. Or you may have a planned call after an email or LinkedIn message.
There is a right way and a wrong way to approach your call with a recruiter. Whether you are working with marketing, business, executive, or legal recruiters, here are some things that you should do when a recruiter calls you.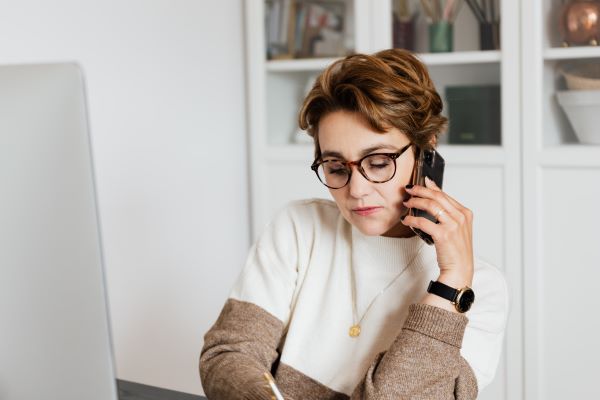 Answer if you have the time to talk
Don't answer if you're busy, are in a loud environment, or don't have the time to talk. It's better to allow them to leave a message and you can call them back when you have the time.
Make a strong first impression
Anytime you meet someone for the first time, even over the phone, it's imperative for you to make a good impression. Answer the phone professionally, be attentive, engaging, and polite.
Update your voicemail to ensure it's professional
There is always the chance a recruiter will call you when you can't pick up. In this situation, your voicemail message will give them the first impression of you. So, make sure you update your voicemail to make it professional, especially if you are actively looking for a job.
Prepare for scheduled calls
If you have a scheduled call with a recruiter, put time into preparation. Recruiters are calling you with the intention of having a constructive conversation with you. Treat it as a screening interview. Expect them to ask you about your current situation, why you are looking, your qualifications, and why you are interested in a job or particular company. Don't treat it like an informal interaction.
Take the call even if you are not actively looking
Conversation with a recruiter can benefit you even if you are not actively looking to make a career move. They can inform you of available roles that you may not be aware of. It also allows you to build a relationship with the recruiter and talk about the types of opportunities you would be interested in pursuing in the future.
Ask questions
Your call with any recruiter is a two-way conversation. Asking questions and inquiring about the role can help you learn more about it, and as we mentioned before, start to build a relationship with the recruiter.
More Tips for Working With a Recruiter
How Do Recruitment Agencies Get Paid?
Watch: 4 Signs Your Company Is Working With a BAD Headhunter
4 Tips to Ensure You Hire an Industry Leading Recruitment Agency
IQ PARTNERS is an Executive Search & Recruitment firm supporting clients across the country. We help companies hire better, hire less & retain more. We have specialist teams of recruiters in Executive Search / Board & C-Suite, Technology, Media, Digital & Marketing, Accounting & Finance, Financial Services & Insurance, Cannabis, Startup, Data Science, Consumer, eCommerce & Retail, Operations & HR, Manufacturing, Supply Chain & Engineering, Legal & Professional Services, Pharmaceutical & Life Sciences, Non-Profit & Sustainability, and Sales. Click here to view current job openings and to register with us.