By Sarah Brekelmans, Toronto Marketing Recruiter
UX talent is in high demand. If you have top UX talent working for you, it's vital you take the appropriate steps to keep them in-house. Other companies will try to poach them from you.
We recently talked to Director of Design, Lenny Laurier, from integrate.ai. Lenny is a UX leader in the GTA who comes with experience mentoring and building teams in both the banking and startup spaces.
Lenny offers these tips for engaging and retaining a strong UX team:
Ensure your organization sees value of design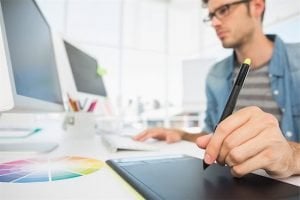 For a team to be valued, the organization needs to show that they see value in design, first and foremost. If that's a problem, it's imperative to tackle this first before scaling a team.
UX designers need to be in an environment where they see design is valuable, not an afterthought. Even if the UX leader is strong, candidates often leave because the company does not value how design can enable their business to be more customer centric. UX designers need to be in an environment where they can flourish and use their talents to help companies gain a competitive advantage.
Start with the interview process
Figure out what interests candidates early in the interview process. Ask them, "If you could design anything you want – what problem would you love to solve?" Ensure it matches the role. Even if it's not the same field, figure out what about that product will motivate them in the short term and long term.
Play to the candidates' strengths by right-sizing each of your team members. Figure it out quickly. If you can use their strengths from the beginning, you will ensure they are feeling strong and confident in what they do.
Provide a strong team structure
In today's world, especially those who are taking accelerated UX programs — designers are taught that the UX process will be nicely structured and allow them to work end-to-end in a linear fashion. However, this is hardly the case, and designers will have to work with ambiguity, surface insights and ideas rapidly, and take an asynchronous route to find the best solutions. Today's designers need to be highly adaptable and having a strong management and team support structure is crucial to their success.
Provide constructive feedback and have open communication channels
Provide design critiques that go beyond the surface level. This is especially important for junior designers. It's important that they are given constructive feedback. Dig into "why" and "how" in order to help them frame a problem in a different way. What entices designers to stick around is tackling new and compelling challenges which provide them with opportunities to grow and reach their potential.
Give them independence to do work
Build a culture that values the discovery process. It's important that designers have a chance to go through each step of the design process to understand the customer, generate solutions, and the ability to validate through testing. Give them the autonomy to come up with ideas, while asking probing questions to get them to approach the problem in different ways.
More Effective Tips to Keep Your Top Talent
6 Tips for a Flawless UX Portfolio
Employee Assistance Programs Can Increase Retention
5 Easy to Implement Recruitment and Retention Strategies
Employee Retention: Why Employee Engagement Matters
IQ PARTNERS is an Executive Search & Recruitment firm supporting clients across the country. We help companies hire better, hire less & retain more. We have specialist teams of recruiters in Technology (IT), Accounting and Finance, Consumer Goods, eCommerce and Retail, Financial Services and Insurance, Startup, Cannabis, Big Data, B2B and Industrial, Operations and HR, Professional Services and Legal, Media, Digital and Marketing, Pharmaceutical and Life Sciences, Emerging Technology and Telecom, and  Sales. IQ PARTNERS has its head office in Toronto and operates internationally via Aravati Global Search Network. Click here to view current job openings and to register with us.