It often takes a crisis for you to show your true colours. How you treat your employees during a crisis can shape your employer brand for years to come. Treat them well, and you'll be rewarded in the form of loyalty and a positive reputation. Treat them poorly, and you can expect to lose some of your top talent and have challenges hiring in the future.
With crisis comes many unknowns, questions, stress, panic and a need to become more fluid and act decisively. It's not business as usual. Companies ask a lot of their employees during a crisis. Amid the risk and threat of lay-offs and job loss, you ask your employees to take on additional responsibility.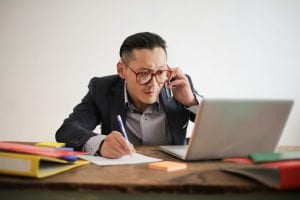 Being able to keep your team motivated is a key success factor to help your company weather the storm and overcome the crisis at hand. Some believe that force and fear is the best approach to take. To the surprise of no one, this rarely helps foster a strong company culture.
Others focus on reward, sense of duty, and compassion to motivate their team. As a Toronto recruitment agency, we recommend these effective ways to motivate your employees and shape your culture during a crisis:
1. Be honest:
A crisis creates cause for concern. Rumors are certain to circulate. Honesty is the best policy. Keep your employees up to date about the latest developments. Be honest with them about the current state of things. Don't give them false hope.
2. Provide reassurance:
It's important to show your team you have their back during a crisis – professionally and personally. Be compassionate about what each individual employee is experiencing. For some, they may be fearing for their job. Others are worried about the wellbeing of family members, and some may be stressed over balancing work and home life. The key is to provide as much reassurance and assistance as you can to put your employees' minds at ease.
3. Listen to concerns:
Have an open communication policy in place. Be available to listen to your employees' concerns. They will undoubtedly have questions about the crisis, the company, and how this will affect work conditions.
4. Provide recognition:
Go out of your way to recognize your employees for the great work they are doing during trying times. Communicate your appreciation. Reward it if possible.
Get More Insights From Our Recruiter Blog
Cool Office Perks Don't Matter Anymore – Good Workplace Culture Is Top Priority
5 Elements That Will Hurt Your Organizational Culture
5 Types of Employees Who Can Ruin Your Company Culture and Kill Morale
---
IQ PARTNERS is an Executive Search & Recruitment firm supporting clients across the country. We help companies hire better, hire less & retain more. We have specialist teams of recruiters in Executive Search / Board & C-Suite, Technology, Media, Digital & Marketing, Accounting & Finance, Financial Services & Insurance, Cannabis, Startup, Data Science, Consumer, eCommerce & Retail, Operations & HR, Manufacturing, Supply Chain & Engineering, Legal & Professional Services, Pharmaceutical & Life Sciences, Non-Profit & Sustainability, and Sales. IQ PARTNERS has its head office in Toronto and operates internationally via Aravati Global Search Network. Click here to view current job openings and to register with us.