Employees resign. It's part of the employee lifecycle and employers need to be prepared for it. Sometimes you can see it coming. Other times it can happen suddenly. But, when it does, it's important to have a plan to properly manage the situation and transition the employee out of the company.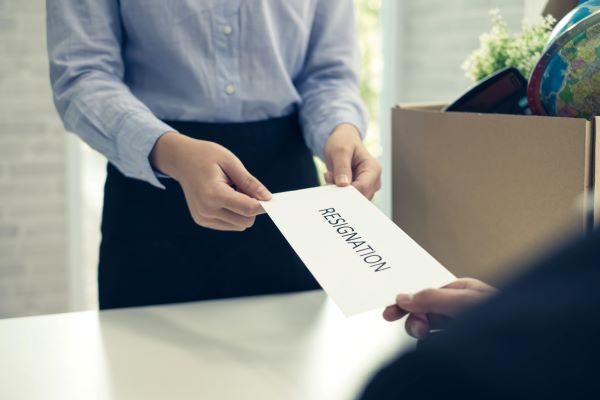 Our Toronto executive search experts have created this checklist for employers on what to do during an employee resignation period in Ontario.
Checklist for Employers During an Employee Resignation Period
Acknowledge the Resignation
Upon receiving an employee's resignation, promptly acknowledge it in writing and confirm the resignation date. This will help establish clear communication and ensure both parties are on the same page regarding the employee's departure.
Review the Employment Agreement and Notice Period
Refer to the employment agreement or relevant policies to determine the required notice period for resignations. In Ontario, the Employment Standards Act sets a minimum notice period based on an employee's length of service. Ensure compliance with these requirements.
Communicate with the Employee
Schedule a meeting or have a conversation with the resigning employee to discuss their reasons for leaving, any transition requirements, and their intentions regarding handing over responsibilities. This allows for a smooth transition and helps you plan accordingly.
Do you want to make a Counteroffer?
In some cases, you may way to present an employee with a counteroffer in hopes of keeping them. Evaluate the situation. If you want to, prepare the counteroffer and present it to the employee. If they decline, continue with the resignation process.
Conduct an Exit Interview (Optional)
Consider offering the resigning employee an opportunity to participate in an exit interview. This can provide valuable feedback on their experiences within the company and help identify areas for improvement.
Read more:  Want to Keep Your Top Employees? Try the 'Stay Interview'
Evaluate Workload and Transition Plan
Assess the resigning employee's workload and responsibilities to determine how best to distribute or transfer them. Identify potential successors or individuals who can take over the responsibilities temporarily or permanently.
Inform Relevant Departments
Communicate the employee's resignation to other relevant departments, such as HR, payroll, IT, and any managers or team members affected by the departure. Ensure a smooth transition of administrative tasks, benefits, and access to systems or data.
Arrange Knowledge Transfer
Facilitate a knowledge transfer process where the resigning employee shares critical information, procedures, and contacts with their successor or team members. This can help minimize disruptions and ensure continuity in workflow.
Update Documentation
Update employee records and HR documentation to reflect the employee's resignation and any changes in responsibilities or reporting lines. This includes updating employee files, organizational charts, and any relevant systems or databases.
Tired of losing talent? Here are  4 Things To Do When You Lose a Top Employee
Conduct a Farewell and Thank You
Show appreciation for the resigning employee's contributions and organize a farewell gathering or communication to acknowledge their time with the company. This fosters a positive relationship and maintains goodwill.
Arrange Final Compensation and Benefits
Ensure that the employee receives their final paycheck, including any outstanding wages, vacation pay, or other entitlements according to Ontario employment laws. Coordinate the termination of benefits and provide information on relevant resources, such as pension plans or COBRA coverage.
Return Company Property (if applicable)
Request the return of any company property, such as laptops, access cards, or keys, and update inventory accordingly. Set clear expectations regarding the return process and any consequences for failing to return company property.
Throughout the resignation period, maintain professionalism and confidentiality regarding the employee's departure. Avoid sharing sensitive information with unauthorized individuals and ensure compliance with privacy regulations.
NOTE: Remember, this checklist serves as a general guide. Get legal counsel or refer to specific employment laws and regulations in Ontario for complete compliance during an employee resignation period.
Check Out More From Our Toronto Executive Search Professionals
Hiring for an Executive Position? 3 Non-Negotiables You Should Look For
Top 3 Signs Your Hiring Process Might Be Broken (And How to Fix It)
Don't Lose Another Candidate to a Counteroffer, Do These 4 Things Instead
IQ PARTNERS is an Executive Search & Recruitment firm supporting clients across Canada and internationally. We help companies hire better, hire less & retain more. We have specialist teams of recruiters in Executive Search / Board & C-Suite, Technology, Media, Digital & Marketing, Accounting & Finance, Financial Services & Insurance, Startup, Data Science, Consumer, eCommerce & Retail, HR, Manufacturing, Supply Chain & Engineering, Construction & Engineering, Legal & Professional Services, Pharmaceutical & Life Sciences, and Sales. Click here to view current job openings and to register with us.